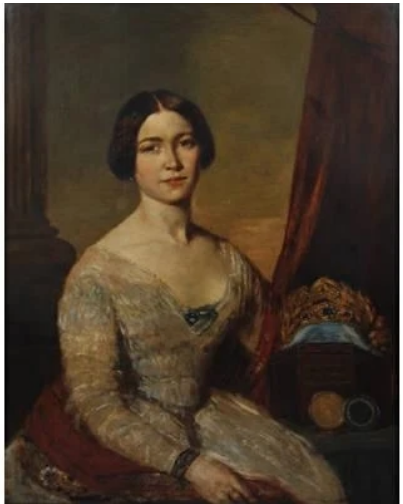 13 Jul

Alexis' Relationship with Francesca Cerrito.

One evening in November 1843, Alexis Soyer went to see Jules Perrot's Ballet Ondine, on at Her Majesty's Theatre, starring one of the worlds leading Prima Ballerinas, Fanny Cerrito [in newspaper aricles of the time, her surname was only spelt with one 'r' viz Cerito) -Her full name was, Francesca Teresa Guiseppa Raffaella Cerrito, born in Naples, Italy on 11th May 1817 died Paris, France 6th May 1909. Alexis was simply overwhelmed by her. Similair to Alexis, by the time Fanny was seventeen she was famous in the country of her birth, Italy. At the age of twenty-one, she was Prima Ballerina at La Scala. She came to London in 1840 and completely conquered it the same year. Alexis managed to get to the backstage where he was introduced to Fanny and instantly fell in love. It appears that after several dinner dates Fanny was equally as smitten as Alexis. All of Alexis' friends encouraged him in this liaison, including Francois Simonau. In fact, Simonau painted Fanny, which was later turned into an engraving,[see image heading this story] he also painted Lucile Grahn, another famous ballerina of that time. Also Emma Jones (Alexis' first wife) painted Marie Taglioni [Have not been able to track this portrait down] therefore it could well be that Alexis was a friend to all three ballerinas. Alexis was not put off that he was involved with a woman as famous as himself; in fact, he seemed to revel in it. He loved Fanny's fiery Latin temperament, the very fact that they could talk in his mother tongue when they were together. He named dishes after her at the Reform; she accompanied Alexis to the inauguration of Emma's memorial, Faith, on 28th August 1844 and laid a wreath at the base. This was the same wreath she had received at La Scala, which was preserved in the recess alongside Emma's palate and brushes. You can make out the wreath in Simonau's painting of her. It appeared that the relationship was working well. He, working long hours at the Reform, she, travelling all over Europe. Her greatest triumph was appearing in Minuet de la Cour. The world's four greatest ballerinas performed it in front of Queen Victoria – Marie Taglioni, Lucile Grahn, Carlotta Grisi and of course Fanny herself. The ballet was the talk of the town and Fanny was the toast of it. Alexis enjoyed all of Fanny's accolades and celebrated with her.

 In 1844 Fanny was partnered with the French violinist cum dancer, Arthur St Leon for the ballet Pas de Quatre and they were asked to take this around the world. Again, Alexis had problems with a woman's father, this time it was Fanny's, unlike the time when he was romancing Emma, where her stepfather, Francois Simonau, was initially against any relationship because he looked on Alexis as a mere cook. Fanny's father Captain Raffaele Cerrito viewed the matter in an entirely different light. He saw Alexis as a big threat. Since Fanny took to the stage Captain Cerrito took on the role of her mentor and manager. The whole family enjoyed a good lifestyle because of Fanny's dancing. Captain Cerrito saw in Alexis a man that could break any hold he had over his daughter. Therefore, he told Fanny that she could not see Alexis again. Unfortunately for Alexis, Fanny being a true Italian daughter of Naples, obeyed her father. Fanny was sent to Brighton, England under the supervision of her mother. Alexis on hearing this rushed down to Brighton and arrived at the Cerrito's lodgings. Senora Cerrito refused to let him in and denied that Fanny was there. Alexis returned to London, rejected and alone.

Captain Cerrito was not a stupid man he realised that because Fanny would have to return to London for each season because London was enjoying a brief period in history of being considered the most important capital in the world for ballet. There would be every chance that the romance between Alexis and Fanny could rekindle. Since Fanny had been paired with Arthur St Leon, Captain Cerrito had seen that Arthur was very much in love with Fanny. I think that Captain Cerrito decided that the impressionable and weak-minded Arthur would make a much better son-in-law.

On 17th April 1845, in Paris Fanny married Arthur St Leon; the marriage was completely miserable and unhappy, and Fanny and Arthur parted in 1851. Throughout this period of marriage and up to her retirement in 1855, Captain Cerrito continued to be her mentor and manager. He died in 1861.

This course of events over the last two years might explain some of Alexis' problems at the Reform. It was apparent that certain members disliked Alexis' fame. They felt his fame overshadowed the Reform Club. It was no longer 'The Reform Club and its cook Alexis Soyer' but now appeared to be 'Alexis Soyer of the Reform Club'. Yet to some members, Alexis was considered as just a servant of the club. In all the London and national papers more was written about Alexis Soyer, than of the Reform Club and any of its members (little did they know this was going to get much worse).

Arriving back in England on the 2nd May 1857, Alexis was destined never to leave England again. He had spent three months living in Paris, staying at Fanny Cerrito's house, (17, Rue de l'oratoire) with her and her daughter Mathilde. Fanny had been touring and dancing in Russia and St Petersburg and the author opines that was the reason why Alexis was dragging his feet in Europe, waiting to meet back up with Fanny. We now know this is the time they secretly married. It appears that Alexis made no attempt to see his son, who was living and working in Paris at the same time as he was staying with Fanny. Once back in England, all his friends made him most welcome, and he accepted nearly every dinner invitation offered him. He was rather bewildered by the reception he received, as ten months had passed since the end of the Crimea War. Alexis went to see the Duchess of Sutherland and Lord Panmure, where he made his final report about his stoves. Panmure told Alexis that the Government wanted to pay him for all his good works during the Crimea, which he accepted gratefully. See under Stories ' Soyer's Universal Symposium of all Nations at Gore House and The Benefactor why he did accept the offer of payment.

Alexis' died 5th August 1858. The Morning Chronicle's article said that Alexis had "suffered from an affection of the liver ever since his return from the Crimea." This was partially correct. Alexis Soyer died of melaena and serious apoplexy combined with the after-effects of Crimea Fever. His  funeral was marked by who was not in attendance, rather than who was. Charles Pierce his friend was heartbroken and sobbed by the grave. However, when the mourners all left, an attendant laid two enormous bouquets of flowers on Alexis' grave. These were from the present Madame Soyer, whom Alexis had married the year previously. He had kept her name secret to protect her reputation. Her name was Fanny Cerrito.

The mystery continued even after Alexis' burial with his will, with his property being valued at less than £1,500. In his will, he does not mention Jean Soyer, his son, or Fanny Cerrito. One strange bequest was "I give the sum of fifty pounds to my infant niece, the daughter of my late sister formally known as Augusta Soyer". The infant niece was his grandniece Ella Clausen, who died at the age of four in 1859, and his late sister was, in fact, his niece Elizabeth Augusta Clausen. He made several bequests leaving several of Emma Soyer's pictures to the National Gallery and to Thomas Blackwell and to Edmund Cross, who was also an executor of the will. The majority of his goods he left for Sophia Cooke, his housekeeper, who was the other executor. But none of this took place See The Benefactor!!!